You may not have heard of the previous baseball player Pete Frates but you'll just be conversant in his work. Five years ago a Facebook video during which Frates upended a bucket of ice-cold water over his head so as to boost money for motor neurone disease – or ALS, because it is understood within the us – swiftly went viral. Within weeks something that became referred to as the Ice Bucket Challenge was on the thanks to becoming a worldwide sensation, raising almost £100m therein initial summer alone.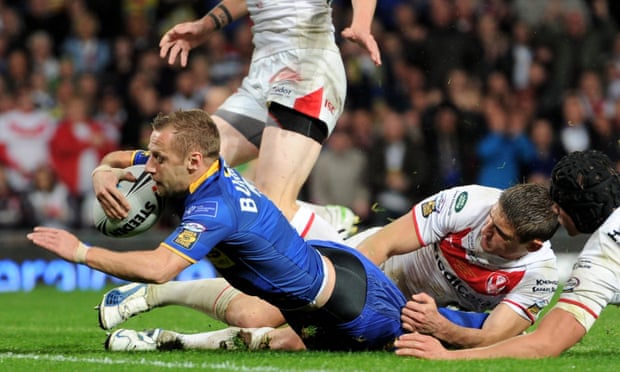 A couple of weeks ago Frates died peacefully at the age of 34. He was diagnosed with motor neurone disease in 2012 and though he had spent the past seven years tirelessly raising awareness of his condition, his passing was an ice-cold reminder this is often a contest with just one outcome. there's no known cure for MND, and what makes last week's news about Rob Burrow so heartbreaking is that for all the defiance and dignity with which he has been discussing his diagnosis, he, too, is now on an equivalent horrific and inexorable journey.
It is two years since Burrow took his bow for Leeds Rhinos at the top of a 17-year career. Fittingly, it coincided with a record eighth Super League Grand Final victory against Castleford and therefore the memory of Burrow hurling himself into tackles within the driving rain at Old Trafford remains shockingly fresh. he's 37 and although he remains optimistic of living a minimum of another five years, nobody can really make certain. He features a wife and three children under the age of eight. it's numbingly, unspeakably cruel.
There is, understandably, a kind of time-honoured liturgy to those very public tragedies: the wave of sympathy and solidarity, the outpouring of grief, well-meaning tweets, grand gestures of generosity. The illness itself is recast as a fight or a battle: an effort to engender hope from this most hopeless of situations. Yet, at the danger of striking a dissonant note, perhaps there are one or two less comfortable problems that require to be raised at now.
Perhaps they ought to are raised more widely in 2007, when the previous Great Britain captain Mike Gregory died tragically young from a sort of MND. Or in 2011, when the Warrington stalwart Paul Darbyshire died aged 41. Or when the previous NRL players Adam Maher or Paul Fisher were diagnosed in recent years or when Keighley's Phil Stephenson gave up the ghost in September. Or after Doddie Weir, Joost van der Westhuizen, Tinus Linee or Ken Waters from rugby union revealed they, too, were stricken. For a condition that's alleged to affect one in 50,000, rugby must ask itself why numerous of its number are becoming so desperately unlucky. agen sbobet 888 online terpercaya